Chuck Smith, Calvary Chapel & the end times fascination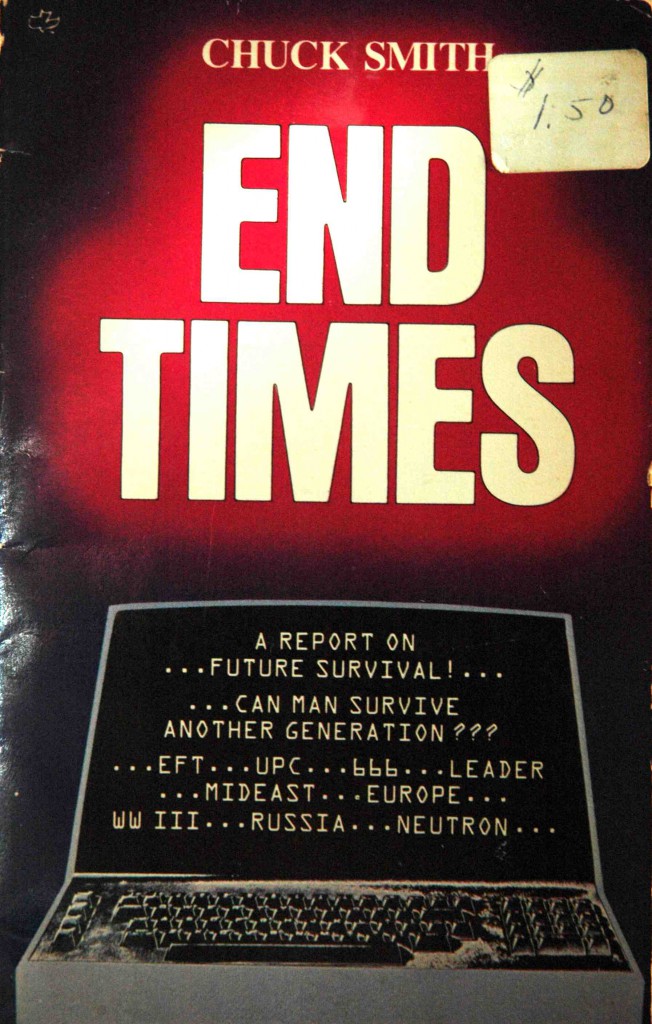 This little known book written by Chuck Smith and published in 1978 reflects the end times obsession prevalent amongst modern evangelicals. The book predicts that a rapture will take place before 1981 whereby all Christians will disappear off the face of the earth. The book was taken off the shelves shortly after 1981 and was swept under the proverbial carpet. Attached are some quotes from the book.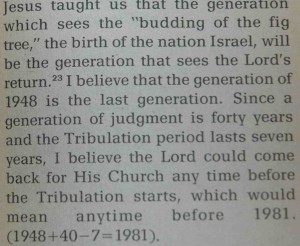 Some dispensationalists view Jesus' words whereby he stated, "Truly, I say to you, this generation will not pass away until all these things take place" as a reference to the generation that sees Israel restored in 1948. However, in the context of Luke 21 the disciples asked Jesus about the destruction of the temple (v. 7). Jesus tells them what to look for and assures them that it will take place in their generation (v. 32) as it did in 70AD.
According to the dispensationalist interpretation and usage of the date 1948, Smith calculates the end to be no later than 1981. If we allow him to move Israel's restoration to a future date in Israel's timeline (1967) and use the same math, the end should have been only 19 years later (2000). Both of these dates have passed without any signs of a rapture.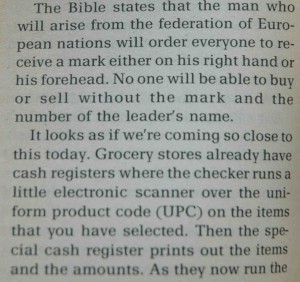 This one is particularly funny. Normally Smith provides proof texts when he makes statements like, "The bible says…" but here no footnote is given. Can someone fill me in where the Bible makes mention of the federation of European nations? Sounds like someone has confused their newspaper for their bible.
Obviously the day is coming pretty soon since barcodes and UPC scanners are becoming popular in….grocery stores??!!!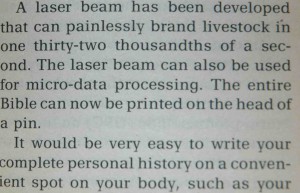 I'd like to know what farmers are interested in shaving off thousands of a second from their branding process. Today, laser beams are so popular that kids and professors alike use them for things like laser tag and pointing at things. I guess lasers are pretty cool, but I'm not quite sure where they fit into eschatology.
Sadly modern evangelicals are doing the same sort of speculation with newer technology such as RFIDs, Smartcards, etc.. Kim Riddlebarger provides a much more reasonable, historic and biblical interpretation in his short blog post, "666 and the Mark of the Beast."
The back cover of Chuck Smiths book: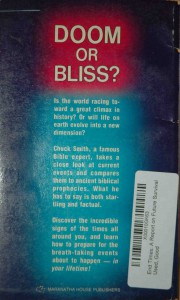 Leave a Reply